Mandy Hansen is a popular TV personality, actress, and fisherwoman. She is better known as the daughter of a celebrity fisherman, Sig Hansen, captain of the fishing ship 'F/V Northwestern.' Moreover, Mandy made her first appearance in TV shows as a deckhand of 'Deadliest Catch.'
The TV star married her boyfriend, Clark Pederson. Below, we briefly look at Mandy's biography, her husband, net worth, and age.
Mandy Hansen's Wiki, parents, siblings, career.
Mandy Hansen is lucky to be the daughter of a famous TV personality. However, she is not the biological child of the Hansen family as Sig Hansen adopted her and gave her his last name. Mandy was born from her mother's previous relationship, who later married Sig Hansen.
Mandy grew up with her siblings, Nina and Edgar, playing and going out fishing with her father, Sig. She is very attached to her sister Nina and close to her grandfather Sverre Hansen and grandmother Snefryd Hanen.
Mandy completed her high school in Seattle and later moved to San Diego to graduate from 'The Maritime Academy.' She also attended 'Washington State University and earned her legal license for operating ocean liners and freighters.
Speaking of a TV career, Mandy started doing TV shows at 13 years of age. In 2009, Mandy first appeared as a guest star in season 12 of her father's show 'The Deadliest Catch.' The series started in 2005 and coming to 2021; it has recently completed airing its 17th season on Discovery Channel. Moreover, the fisherwoman has also featured in various other TV shows.
In 2014, Mandy made a guest appearance in E! Channel's show, E! News. Again in the same year, she was featured in 'CBS This Morning' as a guest celebrity. Moreover, in 2019, Mandy appeared on an award show and presented Emmy Award for 'Primetime Creative Arts.' At a very young age of 25, Mandy is already a big name in the TV industry.
Is Mandy Hansen still married to her husband, Clark Pederson
The famous fisherwoman, Mandy, married her husband, Clark Pederson. The couple turned their three years relationship into a marriage on June 10, 2017.
Both Mandy and Clark are the cast member of the show. Clark Pederson asked for Mandy's hand with her father in one of 'The Deadliest Catch episodes.' The proposal won the hearts of many, including Sig Hansen. Thus, the couple married in the season 13th finale on the 'F/V Northwestern,' a fishing ship used in the show. They had a traditional Norwegian marriage with everyone dressed as a Norwegian.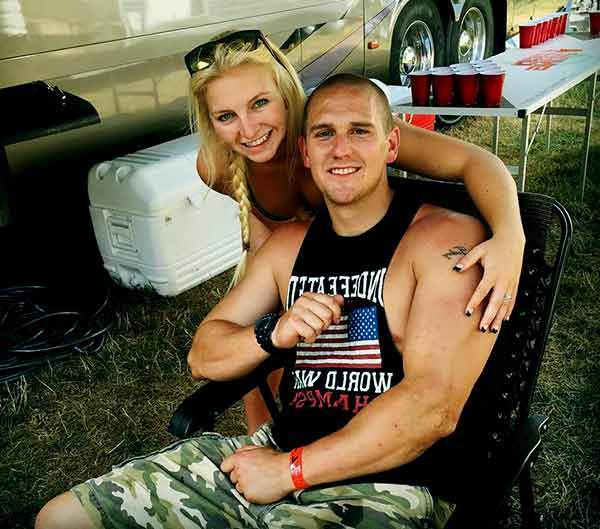 The duo does not share any children. However, they suffered a tragic loss in the form of their unborn child. Mandy also took to her Instagram account @mandyhansennw and posted a heart whelming status remembering her child.
Who is Mandy Hansen's husband, Clark Pederson?
Clark Pederson is the husband of a famous TV star Mandy Hansen. He was born as the eldest son of Brad Pederson and Cheryl Pederson on January 22, 1987, in Vancouver, USA.
Talking about education, Clark is a graduate of both California Maritime Academy and Washington State University. He has the license of a ship's third mate. After graduation, Clark joined 'Shaver Transportation' as a deckhand and worked there for years. Besides, he also joined Northwestern's crew as greenhorn alongside remaining a deckhand at 'Shaver Transportation.' Clark got the golden opportunity of putting all his theoretical studies into the practical world with the help of the show.
We do not have valid news on whether Clark has become a full-time captain or not. However, given that he was training to become one around 2017, he has probably completed his training as of 2021.
Mandy Hansen Net Worth
The famous TV star/ fisherwoman started earning her bread right from the start of her teenage years. With multiple TV shows in her grasp over the years, Mandy has made herself a decent net worth amounting to $1 million. Given her daredevil nature, talent, and confidence, Mandy's net worth will rise high within a few years.
Age and DOB
Born in 1996 in Seattle, USA, Mandy Hansen turned 25 in 2021. She recently observed her birthday on September 14. The 25-year-old currently lives in Seattle with her husband, Clark Pederson.