Brad Krasowski is a renowned commercial fisher and a television celebrity. He has been globally recognized for his participation in the reality show Wicked Tuna that airs on the National Geographic Channel. Brad first joined the show in season 5.
This article provides you with brief information regarding Brad's wife and net worth. So, read till the end.
Age and Early Life
The birth date of Brad Krasowski is September 20, 1969. He is a native of Manasquan, New Jersey, which is near the ocean. As of 2021, he is 52 years old and yet still very active in his commercial fishing career.
Brad Krasowski from Wicked Tuna Wiki Bio
Brad Krasowski spent his childhood near the coast, so he was exposed to fishing very early in life. His parents took him fishing regularly, and the young Brad loved every minute of it. He spent hours catching sea bass, porgy, bluefish, and all sorts of fish out in the Atlantic Ocean with his family. As Brad grew older and honed his fishing skills, he developed a loved for catching big fish. The thrill of hunting and catching big fish coursed through his veins.
He worked as a crew member of several fishing boats during his youth. Eventually, he met Captain Paul Hebert, and they became friends. Later on, he joined the crew of Captain Hebert's ship named Wicked Pissah.
At that time, the captain was invited by National Geographic to join the cast of Wicked Tuna. Brad and the rest of the crew of Wicked Pissah joined the show on its fifth season. Brad purchased a commercial boat and converted it into a fishing vessel with his hard work and perseverance. He joined the sixth season of Wicked Tuna as the captain of Fish Hawk. He nicknamed his boat "the tuna-bago." The expert fisherman was part of the show for four seasons.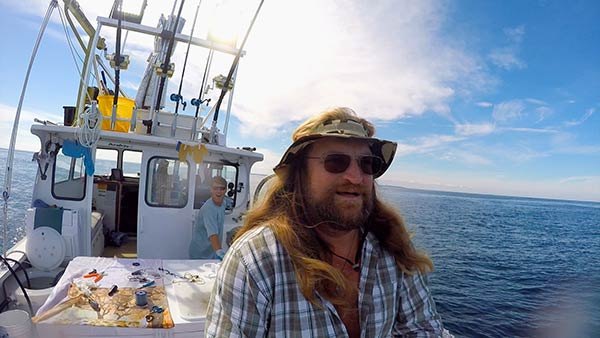 Brad Krasowski Wife
Brad is happily married to a woman named Heather. Other than that, there are no further details about their love life. They have two kids: a son named Brad and a daughter named Emma. The Krasowski family of four is currently based in Massachusetts.
Net Worth and Salary
Brad Krasowski has a net worth of $100,000 as of 2021. He earns mainly from his work as captain of his boat, the Fish Hawk. Tuna fishing is a very lucrative career since the cost of tuna in the market is very high. Brad earned a salary of $10,000 per episode when he was still a part of the cast of Wicked Tuna.